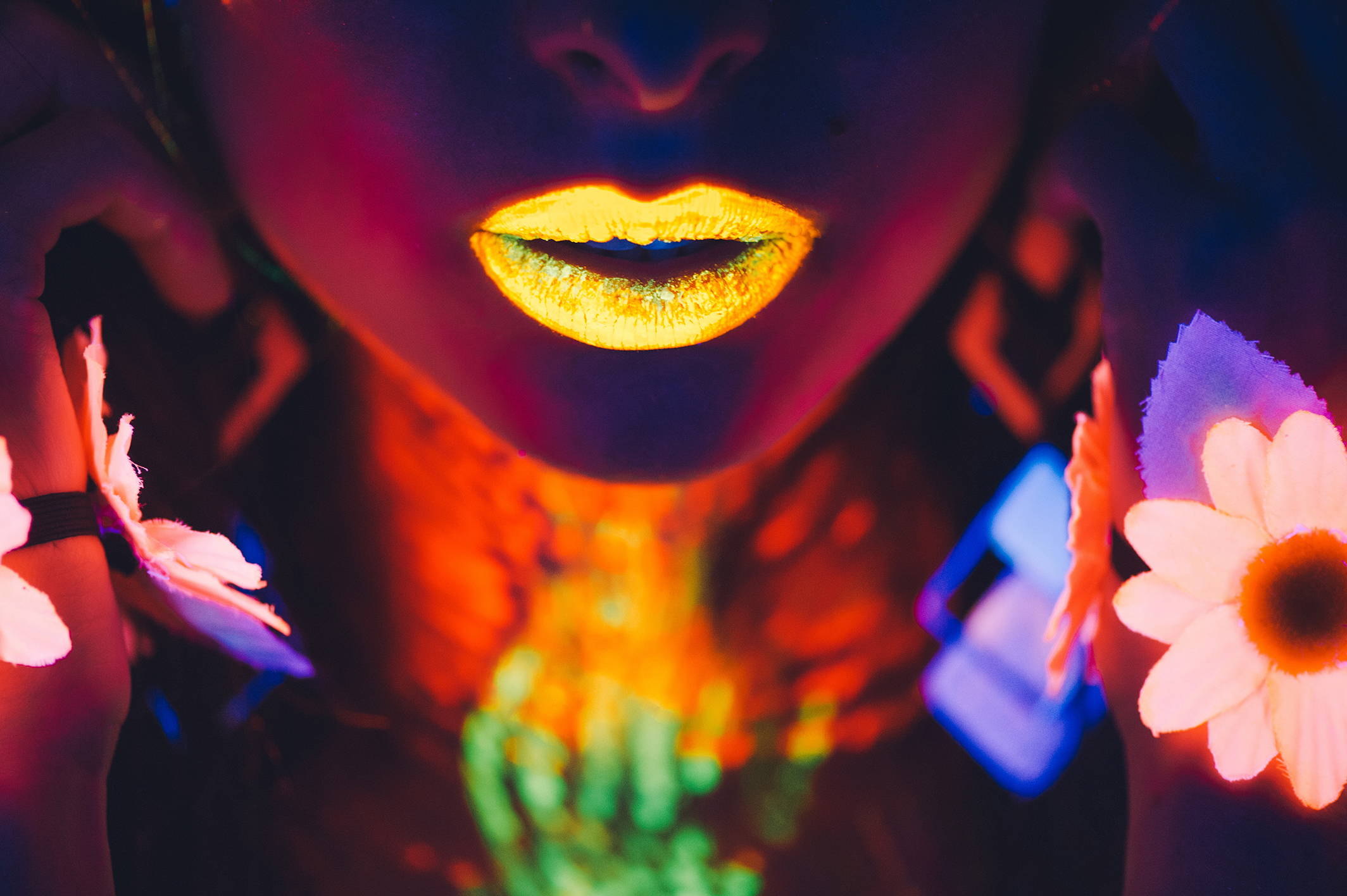 Best Glow Parties on Cruise Lines

You may be looking for the best cruise line to book your vacation on now, or you may have already booked one --
but check out this list of the best glow parties on the high seas and make sure you're booking one to get your glow on.
• Groove Cruise-72 hours of Glow
• Holy Ship
• Norwegian Cruise Line's-Glow Party
• Royal Caribbean's-90's Street Party

• Carnival Cruise Line's-80's Rock-N-Glow Pool Party
• Azamara Club Cruises' White Night Party
Pick a Link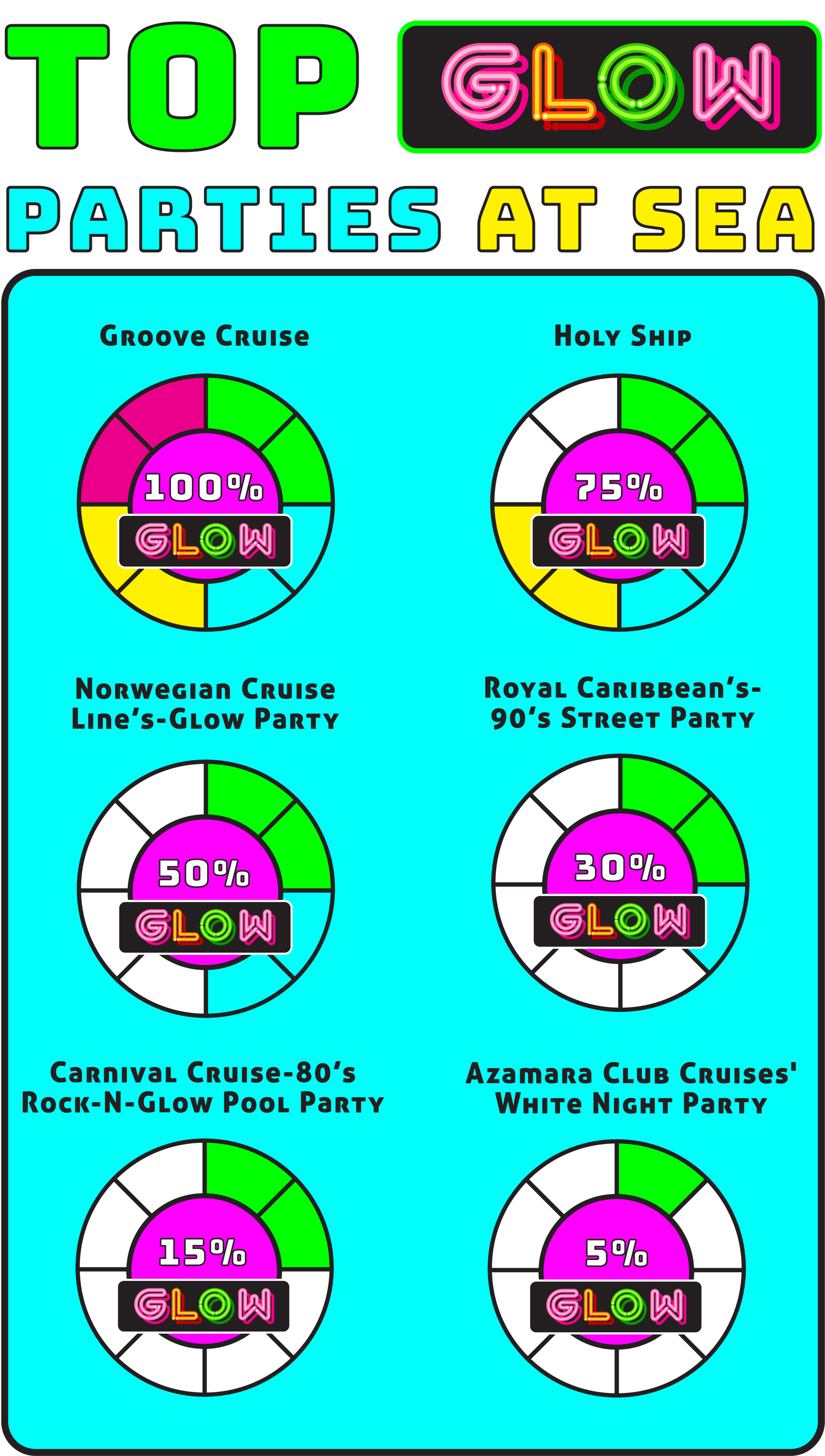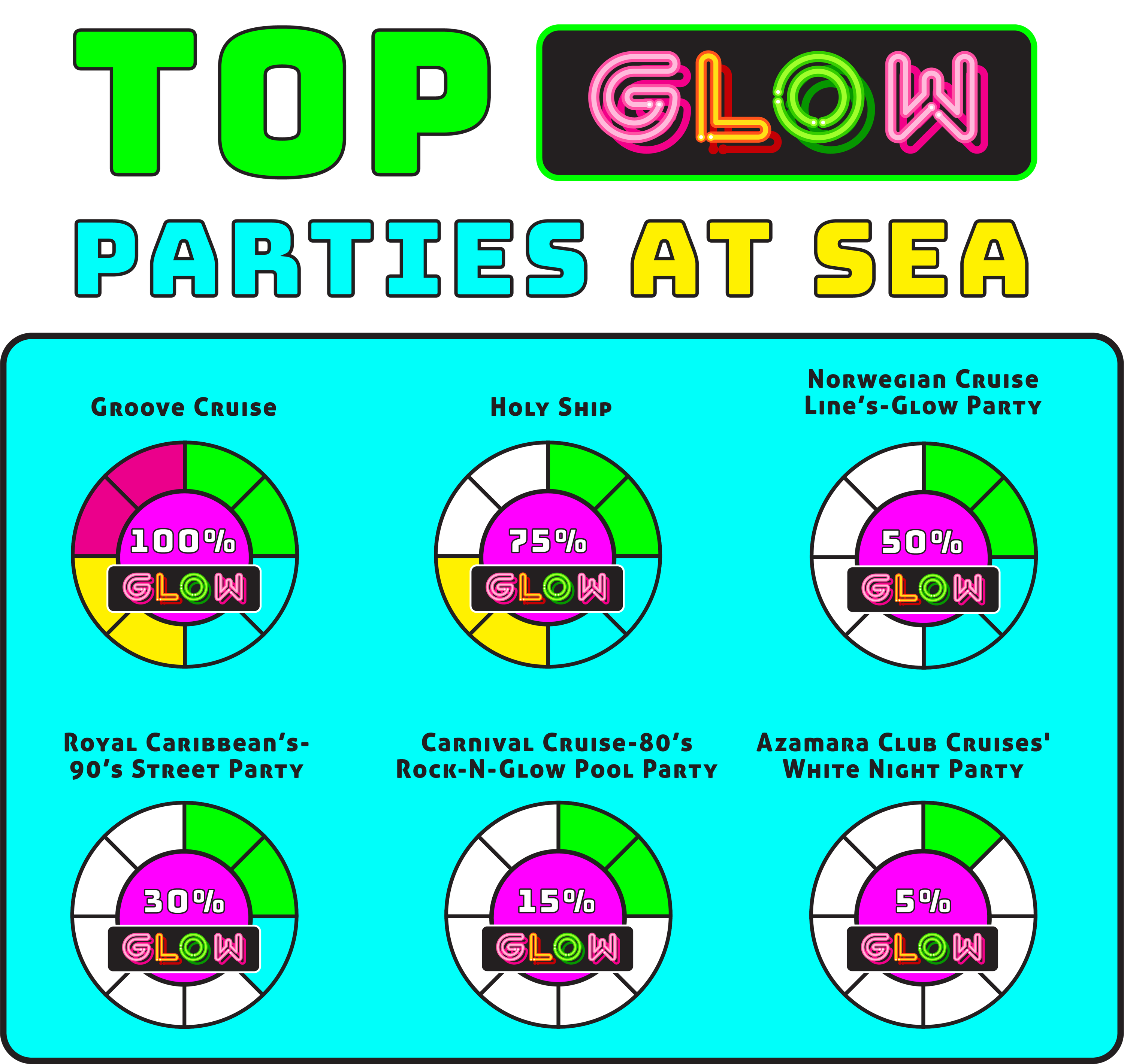 Are you looking for something with a non-stop dance party, to some of the worlds best djs? Oh, and did I mention there is a light show... The party starts from the time you board the ship until you drag yourself off at the very end, then the Groove Cruise is what you are looking for.
On the other hand if you are looking for something more low key, but still an amazing time, then ll an amazing time, then ll an amazing time, then o go. Everyone of these parties are just some of the many amazing parties the high seas has to offer. What better place to get your glow on than in the middle of the ocean under the night sky, seeping on an adult beverages and dancing to the dj playing some hits? We are telling you from our own experiences. What ever you do, do not miss your cruises White Night/Glow pary
What to Bring for Cruise Line Glow Parties
If you're going to a glow party, you want fun and a splash of class–you want to make sure you and your friends are cool cruisers with the right gear to make the party a splashing success. If you've ever been to a glow party on land, you know there are endless possibilities to make your night and glow party amazing. We've checked out some awesome ideas for glow parties so we can share them with you. Make sure you have these items for the best onboard glow party ever!
You may already have the perfect glow party outfit picked out, something that can help you dance all night long and look fantastic doing it. But does it glow? If not, try on some Cofufu Fluorescence Electronic LED Bracelets to get the party started and make the evening glowtastic. These aren't your ordinary glow-stick-bent-to-become-jewelry bracelets; they flash on demand using a remote barette and even have spare batteries to keep the party going. There are six to a pack, sio you can share with friends, they come in multiple colors to match any on deck outfit.
Take your glow gear to the next level with these sound activatedLED t-shirts by SoooEc or one of 16 different shirts from Tricandide. When your dancing to your favoriate hits and your shirt is to, then thats a party.
So, you show up to your ships white night/glow party and the guy next to you walks in with your standard pair of glow sticks that he probably got at his local dollar store. Little does he know that once the dj drops that club beat and the glow battle begins you came prepared. Show him that this is not your first rodeo and bust out your Emazing Lights ezLite 2.0 Light Up LED Gloves along with your Light up Shoes by Electric Styles. Battle OVER!
If you're looking to ramp up your cool cruiser style a bit, take along Aquat's Glow Shutter Neon Rave Flashing Glasses. You can wear these even if you're the resident DJ -- or just want to look like one. They come in four different color combinations and have a steady glow, blinking, and flashing option for any glow party mood. And don't worry -- you won't trip on the deck because these are easy to see out of, and you can stash them in your bag after the party is over. But it may just go all night!
So ladies, the key to an amazing any cruise glow party or any glow party for that matter is glowing paint. The UV Neon Face & Body Paint Glow Kit is easy to stash in your luggage, comes in four different colors. They are bright neon colors during the day and at night glow bright under blacklights. They are also non-toxic and easy to remove. This kit comes with everything you need to spice up your night, and includes more colors like orange, pink, and purple.
Ok, now this is where the whole ensemble comes together! This is my favorite accessories. This is the one that will bring your whole glow experience to the next level. Are you ready? Let me introduce you to the CHEMION–Bluetooth LED Glasses-These glasses will make you the light of the party. Using the Bluetooth connection in your phone, you can display messages, animations, and drawings on the LED glasses. You can even program a your own custom animation and set the the LED to move to the beat of music.
That's the rundown on what you need to make your glow party a bit more, well, lit. Whether you hit Norwegian's cruise glow party or a 80's or 90's glow party, your results are bound to be fresh when you come prepared with the best glow accessories on deck.