Special Event–Getting Hitched On The High Seas?
Everything You Need To Know About Tying The Knot At Sea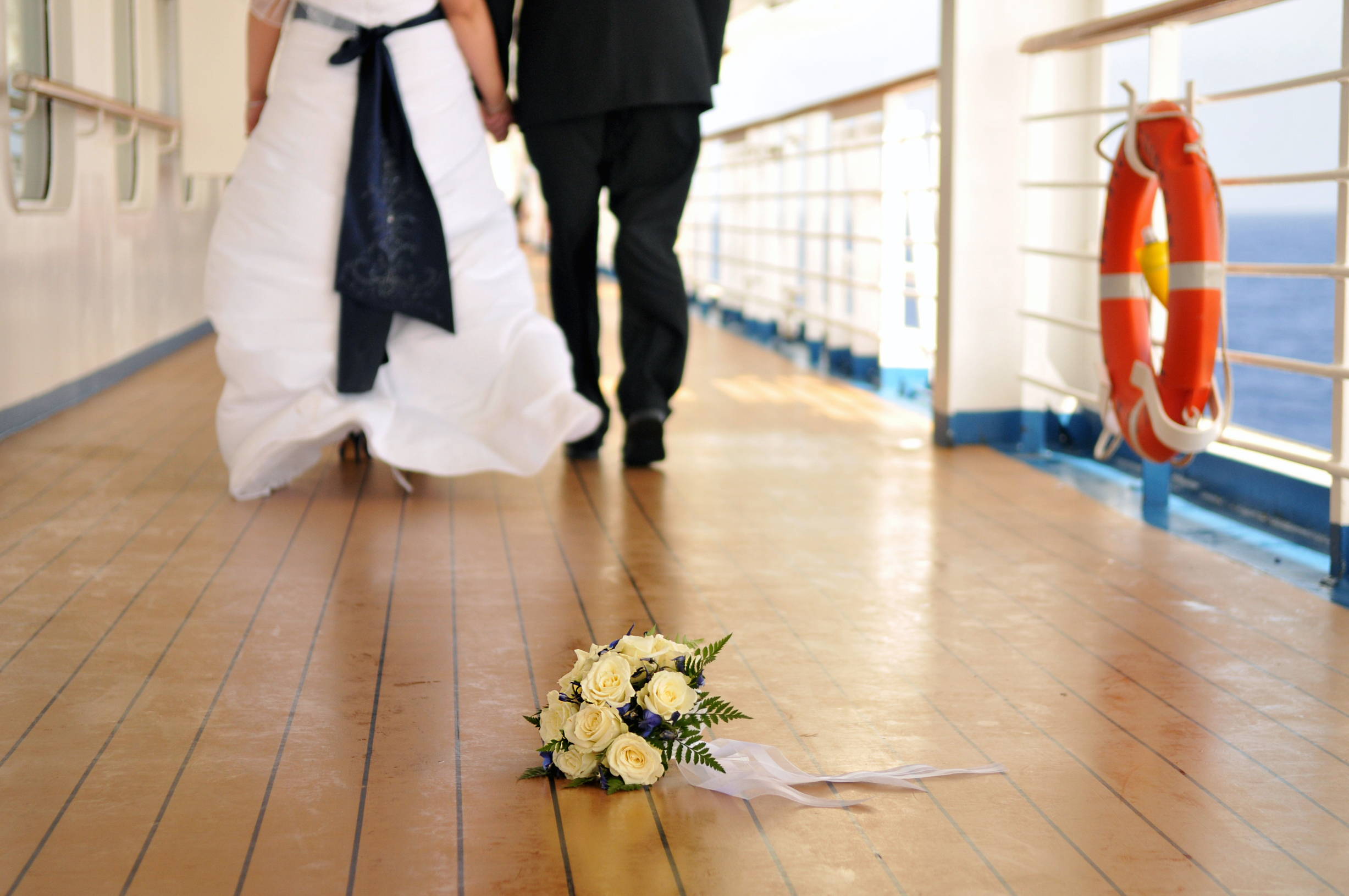 If you're looking to have a simple yet elegant wedding, getting hitched on the high seas gives the best of both worlds. It's fast, doesn't require detailed planning, and you can kill two birds with one stone. Since cruises are frequent choices for honeymooners, why not do both?

Whether you want to say your vows near the warm Caribbean or have a scene straight out of Frozen, you can make it happen on a cruise. Before you start sending "save the dates", know that cruise weddings require flexibility. Read on to learn how to avoid some snags during the planning process.

Make your guest list first
Do you want to elope with your main squeeze or fill the ship with everyone you know? Your decision on party size will shape your experience. You may have always wanted your closest family and friends there, but it will be a little different on a ship. You'll have a lot of interaction with them along with other cruise guests, and it means grandma will be around for your honeymoon.

Some ships also limit the amount of guests allowed to attend the ceremony. Check these details first before deciding which cruise line to book with. Even if you don't invite guests for the cruise, you have other ways to include them for the ceremony.

● Have the ceremony aboard before sailing off- wedding guests can board the ship after previous passengers depart. You'll have time for the ceremony and a quick reception before guests leave and your cruise departs.
● Let loved ones watch from home on the webcam- check with the cruise line to see which ships make these accommodations.
Also check their options for:
● Group Rates
● Wedding packages
● Theme and style that fits your special day

Get your paperwork in order early
You won't find a chapel at every corner of port destinations or the ship. Some captains can't perform the ceremony and each port has different rules for visitors to wed on their turf. Your other option is to choose a destination beach or venue for the ceremony. Either way, you'll need a marriage license for that location. It's up to you to make sure you meet the requirements.

Pack for the occasion
When packing, keep two things in mind: your wedding and the cruise ship. Focus on items to stay organized and make life easier aboard the ship. Then throw in a few essentials that will make your day memorable.
Don't leave home without these cruise must haves:
1. Give your wedding guests the ultimate voyage upgrade with a custom Voyage Box. It is the perfect way to tell your bridal party how truly honored you are to have them sharing in your big day. Our team will work with you to create the ultimate custom bridal gift.
2. TheTravel Hanging Toiletry Bag by Hikenture is a small package that does big things. It seems the bag has endless compartments that you can contract for easy packing and hang it in your cabin closet or on sink top. A compact lightweight travel bag for small bottles, shampoo, razors, deodorant and toothpaste, This bag has has tall, mesh pockets and pouches. The bag has tall mesh pockets and pouches. With the small cabins and bag limits, the Hikenture is the perfect travel bag.
3. The Bose SoundLink Revolve Portable Bluetooth 360 Speaker keeps the party going all night. It doesn't matter if you're poolside (paired with headphones) , beachside, or on more rugged adventures. With wireless range up to 30 feet and 12 hours of playtime, this speaker won't let you down. This speaker has True 360-degree coverage.
4. Everyone loves to take pictures at wedding celebrations. They'll be even more eager to strike a pose when they grab a Wedding Photo Booth Prop. A collection of humorous expressions and silly faces will add life to your cruise wedding events.
5. When you're ready to roll, pack all your items in the Rockland Melbourne 20-inch Expandable Abs Carry-On. The luggage meets size requirements, is sturdy, and easy to carry. All your necessities can fit in this small bag to save space and not weigh you down.

6. When your getting ready for you big day and your cousin Mike comes into your cabin for pictures with a shirt that looks like he rolled all the way to your cabin. No worries at all, you packed Beautural Garment Steamers. This steamer is small, lightweight, and is perfect for travel. It include an Auto-Off.
Plan for a rainy day...literally
Like people are torn over whether to buy travel insurance, it's the same when planning for bad weather. Everyone fantasizes, hopes, and prays for a beautiful and romantic cruise wedding. As much as they do, ship happens. Captains make tough decisions to skip ports, handle emergencies on board, and even issue rain checks.
Avoid panic and disappointment with one of these backup plan suggestions:
● Have a small ceremony at a home destination and make the cruise wedding symbolic.
● Make arrangements for a ship ceremony if the cruise line has to cancel the port.
Whether traveling with a multitude or the two of you against the world, getting hitched on the high seas is a memory you won't soon forget. With a little planning, you can save your sand dollars and have the cruise wedding of your dreams.