Onboard–Tips For Drinking On The Cheap
Save Money to Spend on That Bob Marley Ashtray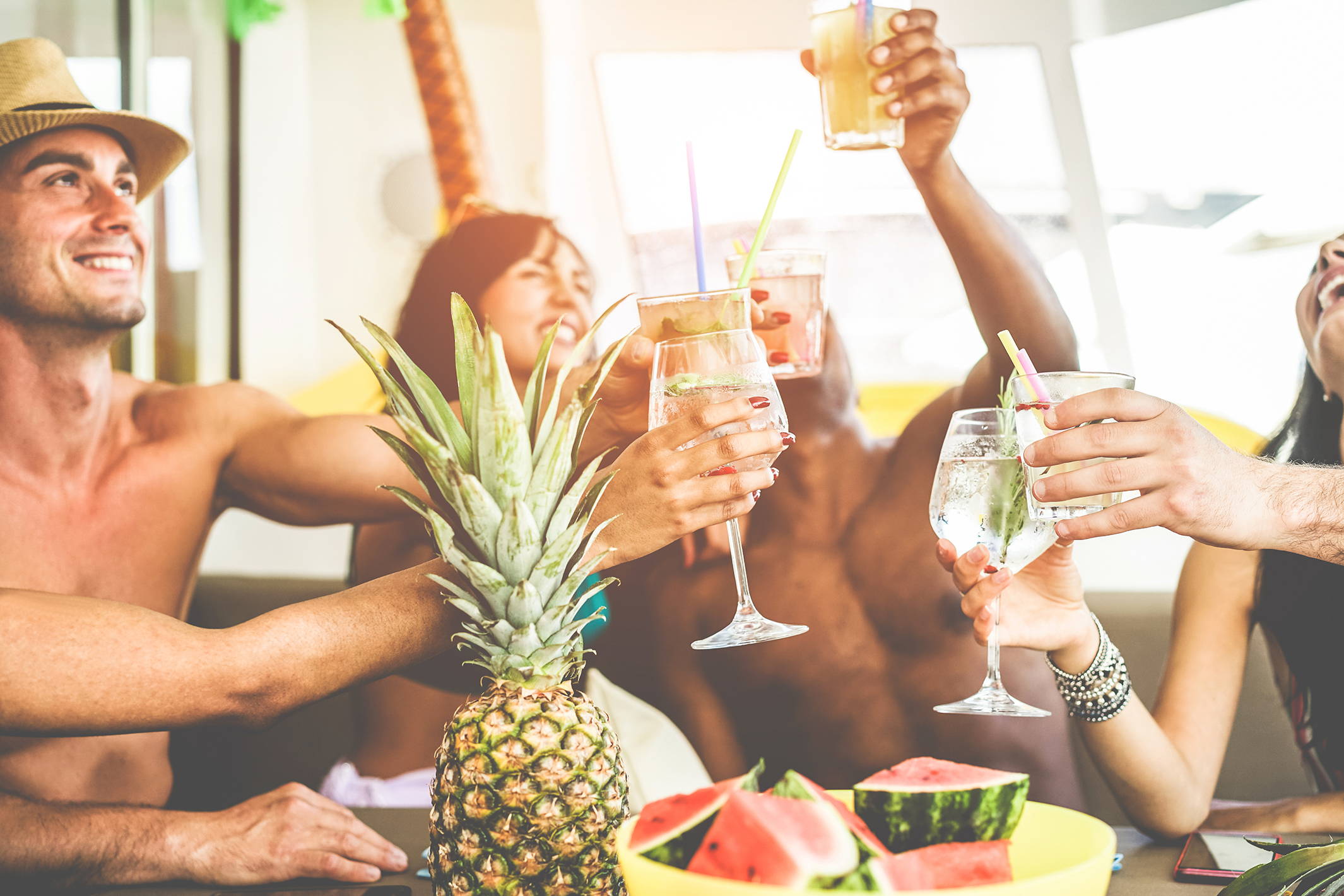 Cruises are synonymous with several things, such as, sun, recreation, relaxation, all-inclusiveness, fun port activities, eating more than you can possibly imagine and drinking. Unfortunately, the cost of alcohol on board cruise trips can become quite costly and isn't part of the all-inclusive cost mentioned. To ensure you have enough money available for important things like souvenirs and the like, read below for some helpful tips on how to save money on alcohol while cruising the high seas:
Purchase a Wine Package/ Order Whole Bottle
Most cruise lines offer a wine package. This allows you to purchase a predetermined number of wine bottles at a reduced rate, which you can enjoy throughout your cruise. The more bottles you purchase, the cheaper the per bottle price. Inquire about wine packages before setting sail or ask your ship's wine bar once on board. Speaking of wine bottles, you are always better off ordering an entire bottle of wine as opposed to ordering it by the glass. Even if you only plan on drinking a few glasses, your server will re-cork your bottle and save it for another night, or even send it to another dining location onboard. When you save your bottle and reuse it another night, you reap significant savings over the cost of purchasing wine one glass at a time.
Most cruise lines allow each guest to bring at least two bottles of wine or champagne, and some cruise lines will even deliver your favorite bottle of liquor to your cabin. You're free to drink it in your room or around the ship. If you would like to bring your wine to dinner, you must pay a corkage fee. It's always nice to enjoy an adult beverage on your balcony or while taking a late night stroll on the top deck. Here are a few items that will ensure you are the go-to cabin when it comes to mixing those after dinner cocktails. There are also a lot travel wine accessories that are available to make sure that you are enjoying your favorite vino even at sea and keeping it fresh in the process.

So you had an amazing cruise and you really enjoyed all the tasty wines onboard. Why not pay-it-forward and leave a bottle of wine for the next guest along with a nice note. You never know when this kind gesture may come full circle.
Buy it by the Bottle
If you want to purchase the beverage package , most if not all cruise lines require that everyone that is 21 or older in your cabin by the package. So it's all or nothing. If your sailing with a bunch of lightweights then your quest for that next bender at sea is still possible. Several of the cruise lines now sell some of your favorite liquors by the bottle.They can be purchased before your trip or when your on the ship. They are definitely more expensive then you would pay at your local liquor store, but since your in the middle of the ocean it's the best deal around. You are also supposed to consume the bottle or cans in your stateroom, but who wants to do that? There are plenty of options for you to be able to mix an epic concoction in your stateroom and then enjoy it anywhere on the ship you like.
Buy Beer in Bulk
Like wine, beer is also available in bulk. Instead of buying beer one bottle at a time, buy a "bucket of beer." Most cruise ships offer beer buckets, where you can purchase a bucket of five beers but only pay for four. Admittedly, this won't save you a ton of money, but every little bit helps. Saving on the cost of even one beer can net you a savings of $6 to $7. Added up over a 5-10 day cruise vacation, this equals more substantial savings.
Drink Locally
You can save a significant amount of money by skipping alcoholic drinks on board and waiting until you're in port to enjoy your adult beverages. However, don't go to the touristy locales, though, or you will probably pay about what you would on your ship. Instead, find a local bar or restaurant located a little further away from port that doesn't' jack up their drink costs. Not only will you save some money, but you will have the added benefit of experiencing a little local flavor, literally!
Happy Hour!
Cruise lines tend to have a specialty "Drink Of The Day" or BOGO drinks at different times of the day. Some cruise lines have a drink competition in which you compete against other fellow sailors to see who can mix the best drink voted by a panel of judges. The winner has the honor of having their drink available to everyone on the ship for the entire voyage. Now you're a Celebrity at sea with your own Blue Lagoon.
Attend a Party on Board
Some cruise ships offer guests complimentary drinks when they attend certain parties. Disney Cruise Lines, for example, hosts a captain's cocktail party with free drinks. Oceania Cruises and Princess Cruises also have welcome parties where they provide free champagne and cocktails to guests who attend. Ask about any such parties where complimentary drinks are served beforehand so you don't miss the opportunity.
Purchase a Drink Package
Another way to save on the cost of drinking on the ship is to purchase a drink package. Drink packages can range anywhere from $15 to per $60+person, per day. These packages will vary based on what types of drinks that are offered and their daily limits. Most cruise lines requires that each adult 21 or older in a stateroom purchase a drink package if one person does. Some even require that if you are sailing with kids that they each get a soda drink package to qualify. If you drink at least six drinks a day, a package like this, which can also include soda and other drinks like specialty coffee, can save you a ton of money. If you don't plan to drink that much, then this might not be the most cost-effective choice for you. As with anything, make sure you read the fine print to see any additional fees and what the restrictions and limits are. Each cruise line and ship have their own packages for adults and kids, and they can vary or change at any time. Even if it's your third cruise on the same ship, be sure to read the fine print because policies change all the time. Better safe than sorry.

The tips above will help you save some of your money on alcohol, so you can use it for other fun things like souvenirs.